February 2013

"Nexu" and "Simul" High-Performance/Ultra-Low Jitter USB and S/PDIF cables
After lengthy development we'll releases soon two special copper based premium level digital cables:
The "Nexu" is an USB A>B cable with very unique internal construction. The data and power paths have totally different solutions.
The "Simul" is an S/PDIF BNC>BNC terminated and very flexible, very low-loss, real 75 ohm cable.
Both cables will be available for purchase from Aprli.
January 2013

Sileo, the Symmetrical Operation Class "A" Headphone & Preamplifier


The development will completed soon of a long-awaited battery powered Class 'A' Headphone amplifier which has balanced inputs and outputs and also can be used as a preamp. The built-in discrete volume attenuator is discrete relay controlled 32 steps version, the device has more headphone jacks, capable of drives single symmetric or two pieces same-time connected asymmetric wired headphones. The power performance is more then enough to driving insensitive legends, such as the AKG K1000. Under the whole development phase the reference headphones was the above-mentioned type and amongst other things the also famous AUDEZE LCD3 / LCD2 and Beyerdynamic T1 were constantly. The device has an intimate and unique design, bamboo housing and equipped an external charger that can fully independent from the local electricity grid.
Few reviews in Polish, English and Italian language are coming soon!
The Sileo will be available for purchase from Aprli. (estimated)

December 2012

Roma Hi-End 2012
We were invited to the "Roma Hi-End 2012" event which was in the Italian capital at first weekend of December. We first met there personally with Fabio and his small team: They are the Open Space Lab, one of our local distributor in Italy.
We introduced ourself to the very friendly Italian public who visited this really cozy and only TWO channels presented event where we proudly realized that the Human Audio was not the only one Hungarian manufacturer shown. :)
November 2012
2012 Westend Hilton AV Trend Show
Like in the previous years we were again at the highest grade Hungarian audio event in the fall: AV Trend 2012 in the Westend Hilton Hotel Budapest.
We would like to say thanks the appeared enthusiastic, music-lover guests who visited our room! Thanks for visiting!
July 2012

Special Offer to get 100% FREE JPLAY RETAIL COPY - Do not miss!
Since the Human Audio USB/SPDIF interfaces have awesome sonic performance with JPlay software, we announce a limited time special offer together with JPlay!


There is a fantastic opportunity to get 100% FREE a full retail copy of JPlay software in case of purchase Human Audio TABLA USB/SPDIF interface directly from the Manufacturer in month of July!

In case of direct purchase of TABLA PICO USB/SPDIF interface unit you can buy JPlay software with 70% discount, for 29 € only!
(The regular retail price of the JPlay software is 99 €.)
For more details or purchase please email us.

This promotional time period will expire on 31-07-2012.
This offer does not apply to U.S. and Canadian customers.
June 2012

HIGH END® 2012 Munich, Germany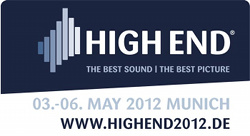 The M.O.C. in Munich hosts the HIGH END, our well-known, popular and successful specialist trade fair, which sets the tone in Europe in the truest sense of the expression. Some consider it to be the definitive source of audiophiles inspiration. Others see it as a business date of the highest priority. And both are right.
There was the Kaiser Acoustics as exhibitor in a room with the event's one of the really best sound. But, how did they do it?
The system itself was all good stuff: digital front-end was a PC acting as a file server, using the best Windows OS based
JPlay 4.2 software (99 €) and a Human Audio Tabla USB -> S/PDIF converter ($995) to feed a Vertex Aletheia DAC (£11,500).
More details about the whole chain > here.
May 2012

The first published review of MUTO DAC is available on the UK based HIFI PIG ( www.HiFiPig.com )
April 2012

T.H.E. Show 2012 - Newport Beach, California
T.H.E. LIFESTYLES SHOW returns to Newport ... including the most prestigious products in High-End Fine Audio and Home Theater
Please visit us in Room 323 at the Hilton - Date: June 1,2 & 3, 2012
http://www.theshownewport.com/2012/humanaudio.html
March 2012

Muto - Battery Powered HD DAC
Our newcomer has been released under name: "MUTO" which is a Latin word and means: transform, exchange.
This is an internal battery powered HD DAC up to 24bit / 192kHz with two selectable digital (S/PDIF) inputs which are configurable 75 ohm BNC-BNC, BNC-RCA or RCA-RCA. The analog outputs are RCA. The Muto has two internal LiFePO4 batteries with at least 12 hours operation time. The whole charging process is automated. The recharging starts when the unit is switched-off or in case of switched-on and the level of batteries reaches the low state. The Muto has a unique and discrete analog output stage with "Class-A" operation in order to give the most realistic musical experience for the audience.
January 2012
CES - International Consumer Electronics Show


Las Vegas, Nevada, USA - 2012 January 10-13.

Human Audio Ltd. was very proud to be featured at the International Consumer Electronics Show (CES) 2012 in the Synergistic Research room in Las Vegas. Interest in the TABLA is very high and getting into dealer hands as we write this. Our Exclusive North American Importer, True Audiophile is responsible for all sales and marketing in that part of the world and is giving us wonderful feedback on the TABLA. We're very excited to have the product available in North America for discriminating audiophiles. The TABLA and the TABLA Pico are just the beginning of new products you will see in the US from Human Audio. For more information on North American sales please check with our exclsuive importer, True Audiophile
November 2011
"The Show"
There was the XII. Home Cinema and Hi-Fi Show in the Hilton Budapest Westend Hotel on the first weekend of November, where the Human Audio crew also represented. We'd like to say thank our visitors who were curious about "the latest Sound of Human Audio". Additional thanks to the several guests who have expressed their appreciation and congratulated to us!
Here we must mention and say special thanks to our friend, Zoltan Szabo / hiVOX, who like last year, in this year too helped us to make much better the scarce hotel room's basically terrible acoustic abilities with his great acoustical panels.
Thank you also to Mr. Rudolf Radnai it has produced, and borrowed interconnect cables, which were used between our amplifier and CD-Player/DAC. We honestly recommend those for the cable-hunters!
So, this show was a big show - and the sympathy of visitors was a great pleasure and always give a huge spiritual encouragement to our small team. Once again, thank you very much!
The exhibition section of the High-End Stereo Audio is the latest number released of the new Audo Exclusive. The magazine received in a prominent place of the legendary former editor of HiFi Magazine, interview with Mr. Laszlo Darvas, but next to it the visitors can also read about a number of high-end devices, among other things about the Human Audio Tabla.
October 2011

Tabla Pico - USB Interface for HD Audio
We're released our second USB Interface for HD Audio at more affordable price than our existing TABLA. The name of the new device is "Tabla Pico". The specifications are same than TABLA, with an exception the newbie has only one internal battery. The charging is fully automatized through connected USB port during idle times.
Triangolo - Three ways, closed-box speakers

Finalization has been done of our new 3-ways, closed-box mega-monitor, the Triangolo. The whole cabinet made from solid bamboo without any artificial surface coating (e.g. veneer). Public hearings will be available for the audience at November 2011 - Home-cinema and HiFi Show Budapest, WestEnd Hilton Hotel. All are welcome!
April 2011
Tabla - USB Interface for HD Audio
The development at Human Audio turns to PC-based listening as well. At the end of this way one new device has born: "Tabla" which was the missing link until now for the people who wants to listening music from the PC on the higest level. With this new device we're able to connect our existing audiophile / high-end DAC (or the next generation "Libretto HD" CDP) with the PC in order to enjoy the "BIT PERFECT" listening of audio streams up to 24bit/192kHz. Tabla needs only one free USB 2.0 port on the PC and the output is a coaxial digital (BNC) for the DAC direction. Based on the Human Audio philisophy this device is purely battery powered with the built in two pieces high-grade Lithium-Iron-Phosphate (LiFePO4) cells. The charging is fully automatized without any external device since the Tabla uses the USB power for charging purpose during idle. Tabla can provide ultimate audio performance through the totally independent and smooth internal battery powering, ultra-low jitter circuits, specialized pulse transformer and of course with one of the best USB-Audio algorithm on the market from M2Tech. /Mac OS and Windows based PC's are supported/
January 2011
Two deep reviews are published by TNT-Audio and Six moons:

TNT-Audio Review ( www.tnt-audio.com )

Six moons Review ( www.6moons.com )

May 2010

The development can not stop!

In the past we've received a number of feedback regarding Scene speakers from some of our friends. They are quite fond of them, but they are in a lack of music room big enough or the placement options were limited. Due to these causes they would like to see more compact and more easily and freely placeable speakers.

The wait is almost over! Now the development of a special, 3-way speaker is in process for about half a year. Creating more freedom of the placement with an exterior still fitting into the world of Human Audio.

For now we only publish the following information:
3-way system. NOT reflex! (More on that later)
200mm woofer
76mm-Dome Middle driver
29mm and a soft-dome tweeter
modularly upgradeable crossover
All of the speakers, as well as passive components are from well-known and deservedly recognized expert workshops. Therefore it is not a surprise that our experience is very promising with the newcomer.
October 2009

Long years were spent in development. We could not wait for the final reward, but still
some thing's come up.

-It's not perfect, still missing a little something, not the real thing.

Finally came the big day. All new products, hidden in the laboratory, may now be presented to the Human Audio entire chain. Introductions were behind closed doors, especially in the case of the Libretto, which was the first-born of the chain. Of course, the intermediate test is also done by the development team, rather than other
people. Composed primarily of musicians, "from the inside" and who know the music would lead to preconceptions and the equipment's high-end nature. We understood that it was important for people outside of the experts in the field and development team to assess the equipment because one is always biased towards its own child.
So the day for the public presentation came, and it was a great day at that. It coincided with the 2009 Budapest HiFi show which could not be more perfect, regardless of the Chain Bridge Hotel Design, a monumental occurrence, happening on the same day.

At the HiFi show there were tight clog-dance sounds instead of hotel rooms, in a spacious, really good acoustic space, with a circuit of the medieval walls found under the building.